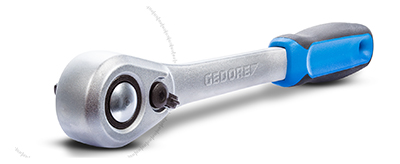 RATCHET TECHNICAL SPECIFICATION
We have Ratchets ranging from 1/4", 3/8", 1/2", 3/4" and 1"
The gear ratios provided in the ratchet contains 72 teeth providing very less angle return and helps working comfortably at confined spaces.
All the Ratchets made are Hot forged and serviceable.
IMPACT SOCKET
Our impact sockets are made of special steel, manganese-phosphated
We have developed a special mechanism for the impact sockets to avoid loss of safety pin and rings

We provide ranges from 1/4" to 2.1/2" Impact sockets.
CHROME VANADIUM SOCKETS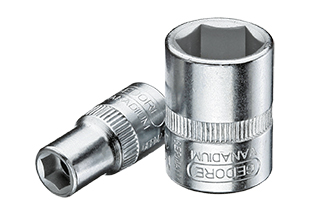 Sockets are made up of Chrome Vanadium Steel.
Socket drive sizes range from 1/4" to 1"
Gedore provides the torque chart for each and every sockets which it can withstand. For Torque Chart please click here.
Socket Set are provided in all 3 brands